Dr.-Ing. Lena Müller wins Dr. Wilhelmy-Award 2019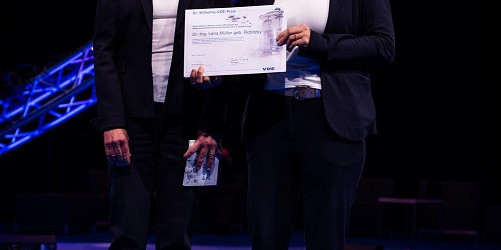 VDE and the Dr. Wilhelmy Foundation have awarded Dr.-Ing. Lena Müller the Dr. Wilhelmy-VDE Prize for outstanding dissertations.
The award ceremony took place during the VDE Tec Summit in Berlin. In her dissertation "Analysis of long-term voltage stability in electric power systems under consideration of active distribution networks and novel emergency control systems", Lena Müller deals with the changed system dynamics due to the integration of converter-coupled equipment, with real-time-capable control systems for the identification and avoidance of voltage instability and, last but not least, with the dynamic modelling of power engineering equipment and its control.
The Electrical Engineering Prize for Young Women Scientists was established by VDE and the Dr. Wilhelmy Foundation in 2014. In addition to an outstanding doctoral degree, the dissertation must be of great significance for science or for Germany as a business location. The prize is awarded exclusively to female electrical engineers who have not exceeded the age of 35 when submitting their dissertation. Up to three prizes are awarded each year. VDE is responsible for the implementation of the programme. (Source: VDE)