Third Party Projects
IQ Dortmund
Concept design of an integrated heating network enabling cross-sector energy supply in Dortmund
The aim of the project is to optimize the overall district heating supply system in Dortmund. A conceptual design is proposed in order to link the heating system with the electricity grid and the mobility sector. The goal is to enhance the potential flexibility from each sector to optimize the overall energy supply framework thereby reducing operational costs and CO2 emissions.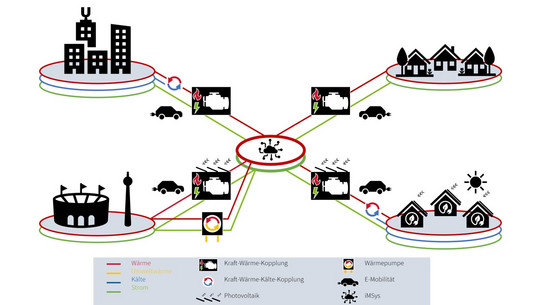 Main tasks of the project are therefore the conception, simulation and optimization of a complex network including the heating system and the electricity infrastructure.
A Combined Heat and Power (CHP) -based charging infrastructure for electric vehicles (EVs) will be considered to enables the interconnection of the energy framework with the mobility sector. For the state-based grid operation, an intelligent measurement system will be installed into selected pilot districts in Dortmund City. The system will allow for flexibility management for both heating and electricity grid. Furthermore, the integration of renewable energies such as photovoltaic systems into the heat grid will also be taken into account.
The task of the ie³ Institute of the TU Dortmund University in this project is to design and perform laboratory tests to validate and improve management strategies to enhance cross-sector energy supply in smart distribution grids. A suitable testbed will be implemented at the Smart Grid Technology Lab of the ie3 Institute. The laboratory is equipped with a real-time simulation system together with a full scale test grid including several hardware components such us PV systems, EV-charging stations and storage systems. The interaction of the heating systems with the electricity grid will be emulated by means of advanced hardware-in-the-loop tests.
Project Partners: GWI, DEW21, e.f.Ruhr
Project Duration: 01.09.2019 - 30.04.2022